Coppermine Crossbody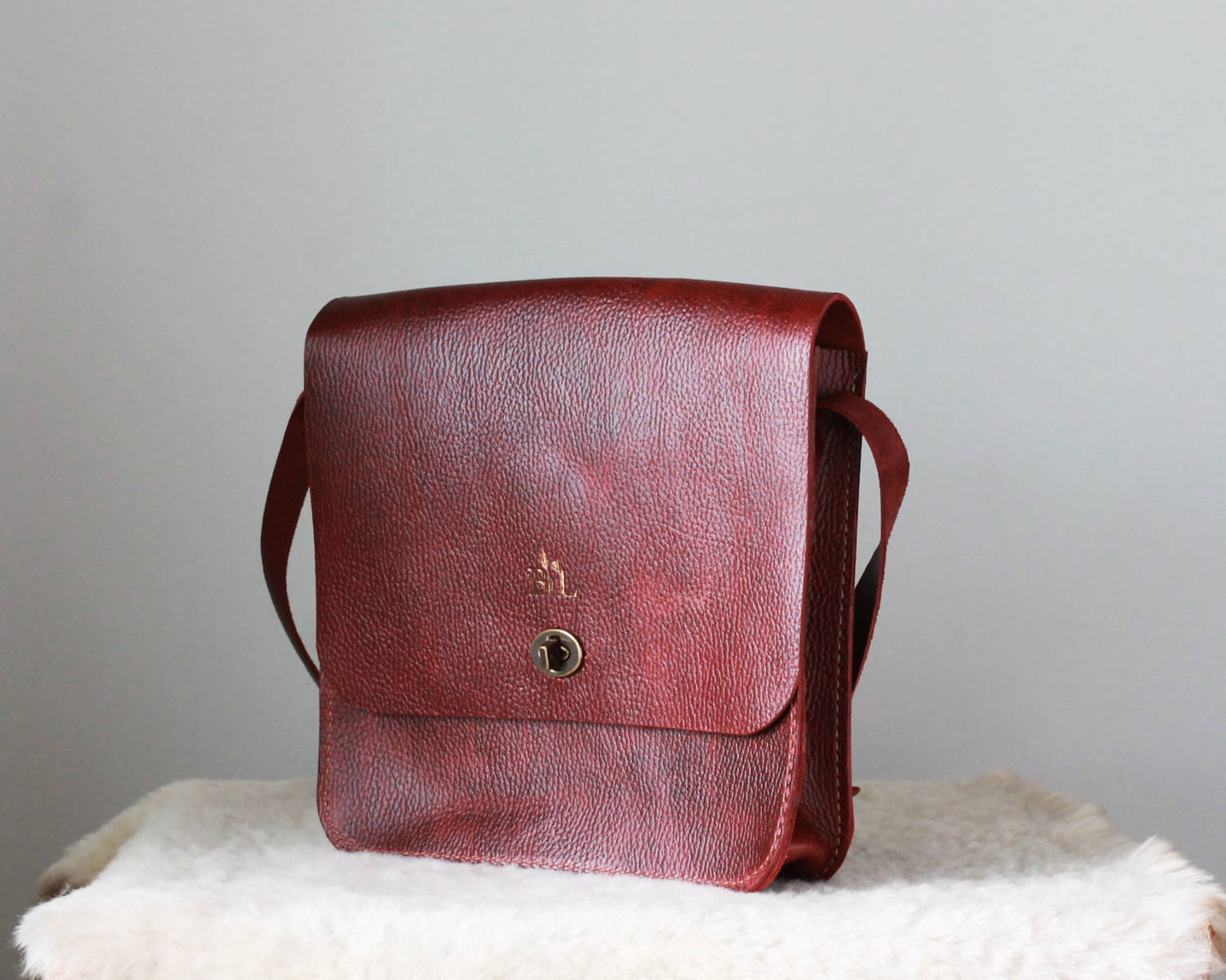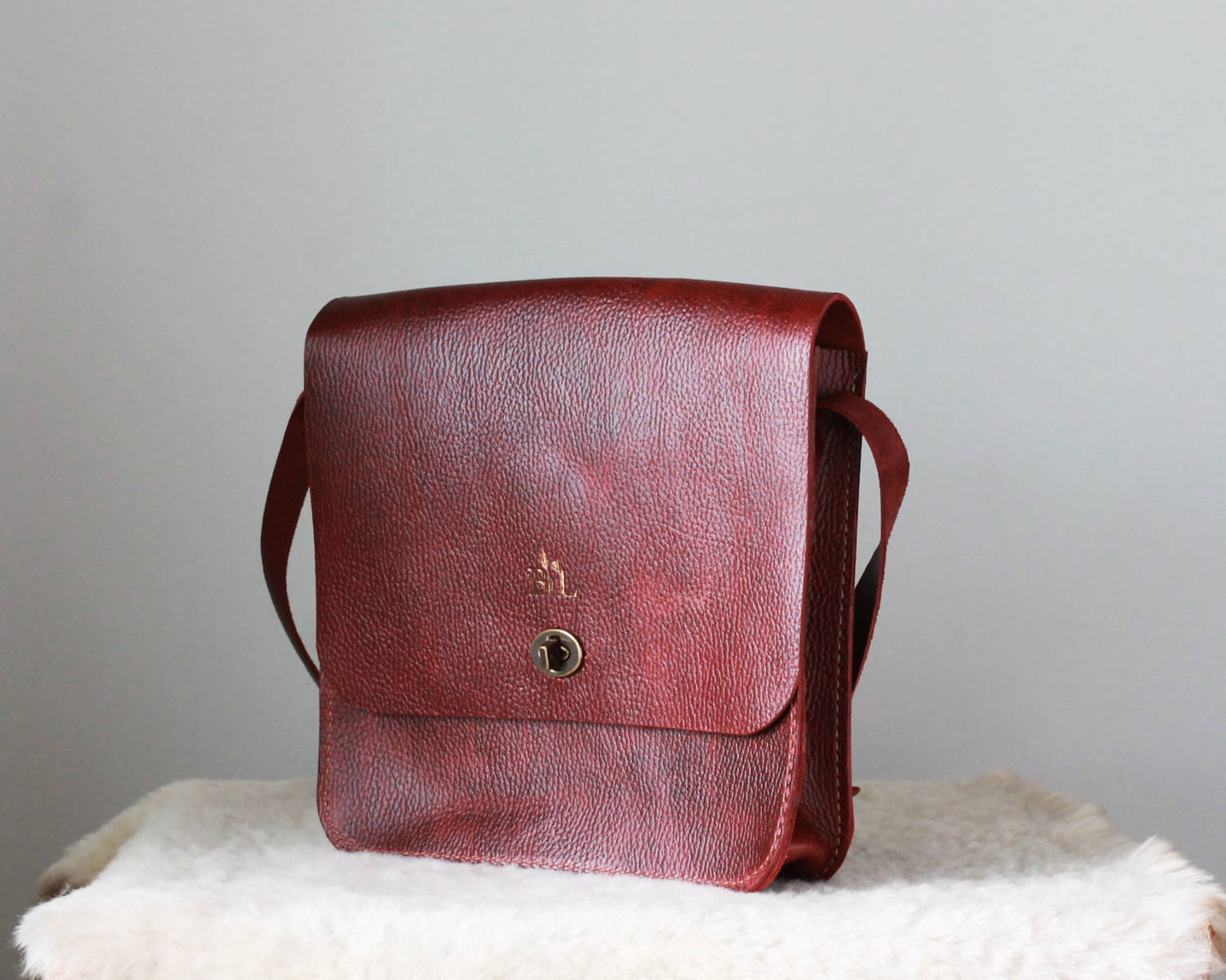 Coppermine Crossbody
Rust Coppermine Cross-body/mini-messenger bag
Beargrass Leather -- Inspired by Montana, Crafted by Hand
Beargrass Leather creates handmade leather goods that are inspired by northwest Montana. Each item is crafted in Lakeside, MT.

Product Description:
The Copper Mine Cross-body bag is the perfect featherweight item to carry your essentials: wallet, glasses, gloves, etc... The slim profile and top notch leather make for a great combination. It is touched off with Beargrass Leather's by a solid brass hardware and a turn-lock.
The Copper Mine is 9" tall by 9.5" wide with a 2" deep gusset. The strap is approximately 42 inches long and adjustable with a buckle. The bag's closure is a classic brass turn-lock.
Product Measurements:
Height: 9"
Width: 9.5"
Depth: 2"
Strap Length: 42" Adjustable

Shipping:
$7 Flat-rate 3-day priority shipping within the U.S. International shipping is flat-rate based on the estimated package size and weight.

What Sets Beargrass Leather apart from other Handmade Leather Goods?
First and foremost, Beargrass Leather is unique in the technique used to stitch and lace our leather goods. Secondly, we are one of the few handmade (non-machine)leather workers that can line our bags and purses. Thirdly, Beargrass Leather can design and make hair-on-hide bags and purses. Fourth, the design elements of Beargrass Leather goods stretch far beyond basic rectangular totes and rough edge purses. Finally, our dedication to American-made goods.
Our customers understand that each product is both unique and a combination of skills not offered by the average US leatherworker.

Leather as a Natural Product:
Real, full-grain leather is a natural product. Each hide has a certain amount of "irregularities" which those in the leather business call "character." Some hides even come with brand marks (which are awesome), nicks, bites, bumps, scars, and other awesome items of character. The tanning and dying process can also leave certain character marks. In the end, this is a sign that your leather is real, unadulterated, one of a kind, premium leather that will last for years.

Responsibly Sourced:
Our customers know the value of American made goods; accordingly, Beargrass Leather takes great care to utilize American made products into our designs. While it is impossible to calculate hard numbers, most of our products are over 90% American made with American goods.
For example, most of our leather is from American tanneries and cows: Horween, S.B. Foot, Tasman, etc...
The bulk of our thread comes from Maine thread which crafts amazing waxed polyester thread. Our hardware is sourced from American retailers.
While it is nearly impossible to verify a truly 100% American made good, Beargrass Leather takes great pride in sourcing our materials to introduce as much high-quality, American product to our clients.

Handmade in USA:
Every Beargrass Leather is crafted by either Samantha or Benjamin in scenic Montana.

Hand-stitching:
We consider a large part of hand made to include hand-stitching. Hand-stitching is more durable than sewing machine stitches. The traditional leather-working stitch is called a "saddle-stitch." Saddle makers this very day use a saddle stitch for the world's most durable saddles. Beargrass Leather uses a saddle stitch (or one of its variations). Most often, we use a decorative crossing saddle stitch. Each stitch is actually two stitches, binding against the other in unison. The standard Beargrass Leather thread is made in America and is 100% to 200% larger in diameter than most machine thread. We strive for one continuous thread per stitch run which can result in working with up to 50 feet of thread at a time (such as a gusset or strap).

Leather Care:
For most Beargrass Leather products, we recommend Montana Pitch Blend for care and conditioning. Montana pitch blend performs two roles: conditioning and protection. The mink oil will soften the leather while the wax will help protect the leather from weather and wear. Montana Pitch Blend may darken leather, but all leather will darken over time.

Dye:
Each product is tanned and dyed by the tannery. As any color or dye, it may rub off if vigorously rubbed or wetted. Over years of use, very few products have shown any rub-off of color. Nevertheless, the use of a good conditioner like Montana Pitch Blend may help. But in the meantime, use caution and pay attention.

Follow on Facebook or Instagram:

beargrassleather.com