Axis Sadie Leather Handbag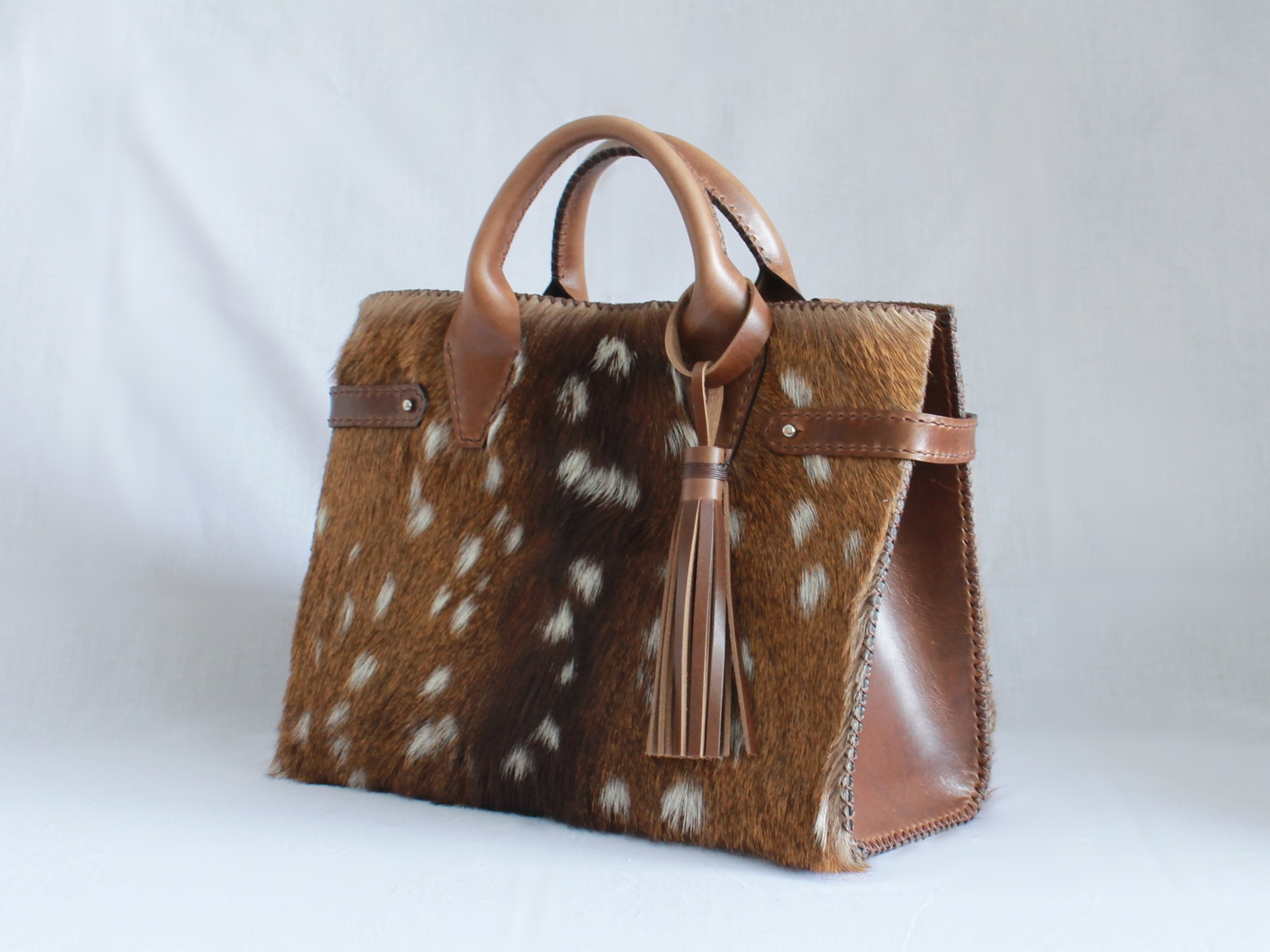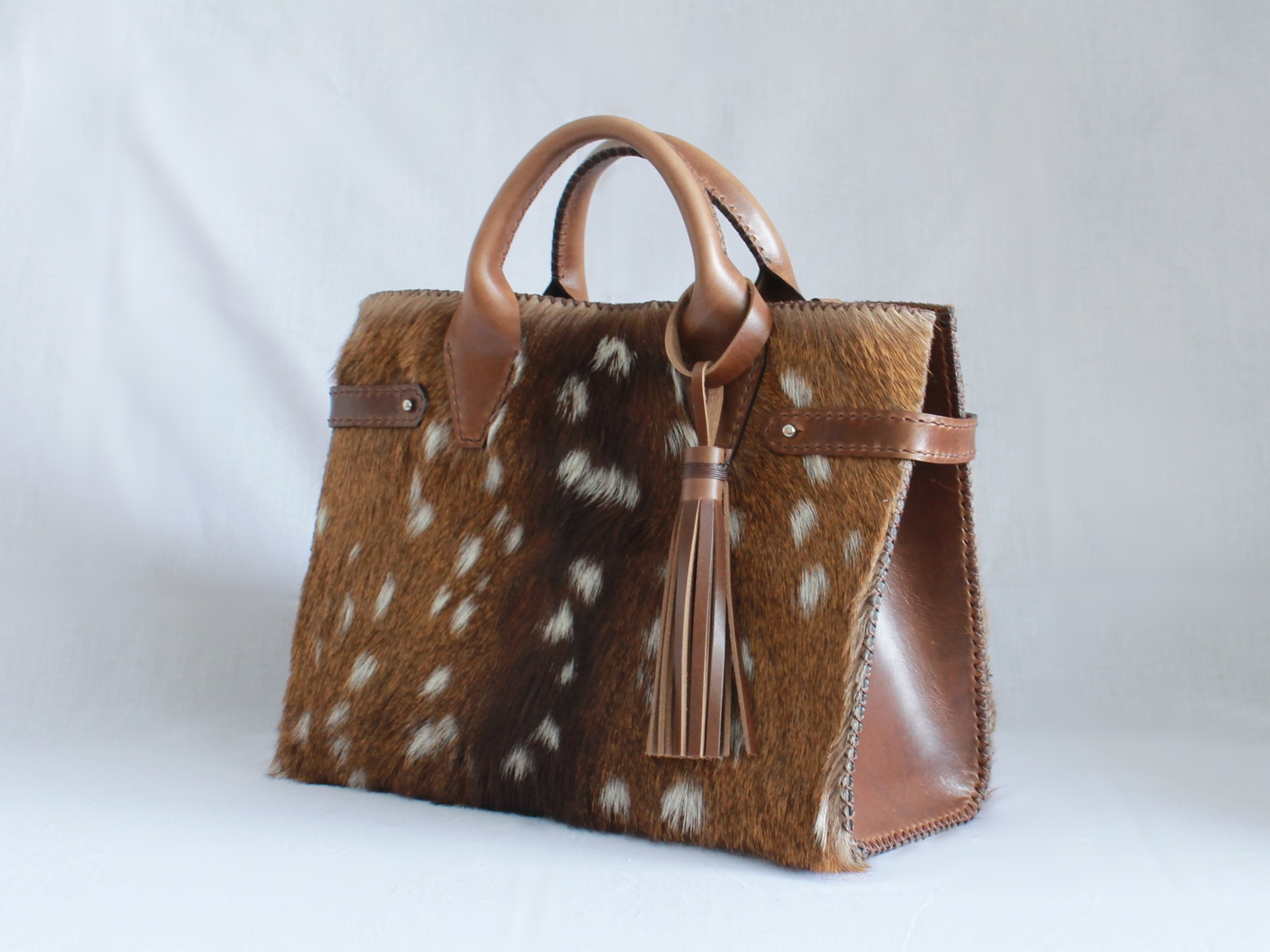 sold out
Axis Sadie Leather Handbag
Product Description:
The Axis Sadie Doctor's Bag is a one-of-a-kind find. This is our most popular and complicated design. While there are many hand-made bags available, we are one of just a few who make exotic, hair-on-hide, fully lined, hand-stitched leather bags. The Sadie Axis is a three handle bag featuring two short handles and an attachable cross-body strap.
Leather:
Axis deer are native to India and are described as a medium sized deer that never loses its white "fallow" spots. These hides are not "baby deer." There is a strong probability that these responsibly sourced from Texas where there is a self-sustaining herd in 27 counties. The Cheetal (Axis) deer is categorized as of "least concern" for their conservation status.
Construction:
Each bag is cut from a single section of Axis with no breaks. The front, bottom, and back are all a single cut of leather. It takes one entire Axis hide to create. The bag is fully lined with an antiqued leather lining. The interior also features a medium sized pocket for easy access to a cell phone.
Fully hand-stitched, each bag is an original. From start to finish, it takes 12 hours of artisan work to create. Nickel hardware gives this rustic bag a contemporary feel. In addition to the two short handles, a cross-body strap is included and connects to the gussets' nickel rings. The bottoms of the bags feature four nickel feet to provide protection from wear.

Product Measurements:
Height: 10"
Width: 14"
Depth: 6"
Strap Length: Two straps -- short handle straps and approximately 44" adjustable shoulder/cross-body strap.
Shipping:
$7 Flat-rate 3-day priority shipping within the U.S. International shipping is based on the estimated package size and weight. Items typically ship within three business days.
Leather as a Natural Product:
Real, full-grain leather is a natural product. Each hide has a certain amount of "irregularities" which those in the leather business call "character." Some hides even come with brand marks (which are awesome), nicks, bites, bumps, scars, and other awesome items of character. In the end, this is a sign that your leather is real, unadulterated, one of a kind, premium leather that will last for years.
Handmade in USA:
Every Beargrass Leather is crafted by either Samantha or Benjamin in scenic Montana.
Leather Care:
For most Beargrass Leather products, we recommend Montana Pitch Blend for care and conditioning. Montana pitch blend performs two roles: conditioning and protection. The mink oil will soften the leather while the wax will help protect the leather from weather and wear. Montana Pitch Blend may darken leather, but most leather will darken over time.
For bags made of hair, simply wipe with a damp cloth with either simple water or a mild soapy water. Do not soak. Our hair-on-hide leather is created mostly for use as throws, pillows, rugs, and bags, so it can stand up to some intense use.
Dye:
Most of our products are tanned and dyed by the tannery. As any color or dye, it may rub off if vigorously rubbed or wet. Over years of use, very few products have shown any rub-off of color. Nevertheless, the use of a good conditioner like Montana Pitch Blend with natural oils and waxes will help . But in the meantime, use caution.